Power Converters
IE has designed and developed a range of power conversion and distribution devices for critical and demanding applications in the aerospace industry.

The flagship product of IE range of power converters is a 3-phase Avionic Frequency Converter, designed to support the integration of VF generators to 115VAC@400Hz power distribution buses thanks to an extended input frequency range. Based on highly efficient SiC solid-state technology, it can deliver outstanding power quality and efficiency in a wide temperature range.
The IE Avionic Frequency Converter is a reliable power solution to rotary wings and fixed wings aerospace industry: the equipment key performances are the 3-phase output, 115VAC@400Hz, 3-phase input 115VAC @280-522Hz (MIL-STD-704F), Efficiency > 97% (typ.), Load PF range > 0.7, THD < 3% (overall) and < 1.5% on each phase, -55°C/+71°C temperature operating range, DO160G and MIL-STD-810F compliance.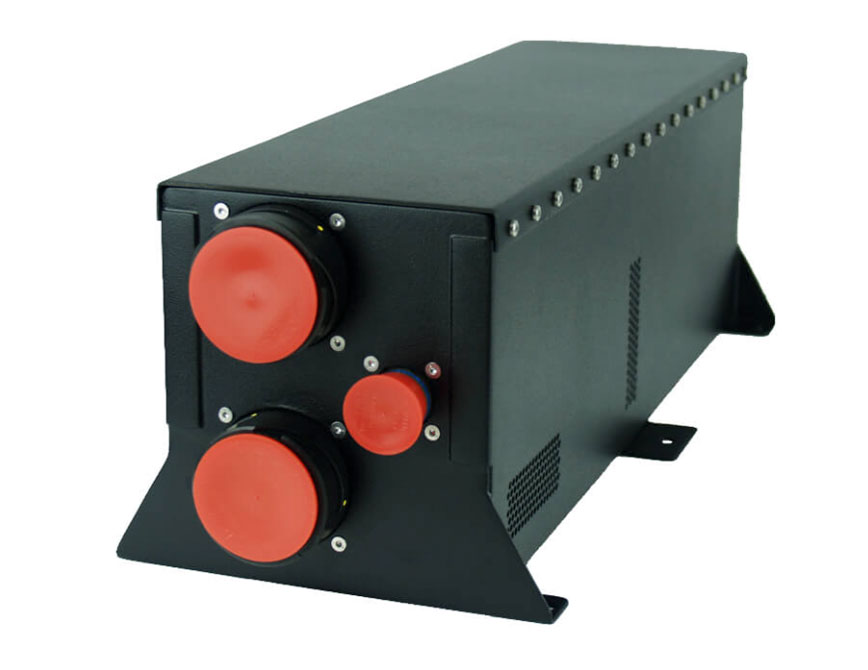 AC/DC Converter
Elettronica Aster power converter unit can supply up to 20kW 270VDC from 3-phase 115VAC@400Hz bus. Based on solid-state technology and WBG devices, ISOCOMP ELETTRONICA solution provides an easy and efficient solution to support DC power devices on AC bus.
Features:
Single channel 20kW@270VDC output with 115VAC@400 Hz input
High-efficiency GaN-HEMT solid-state technology
Avionic can bus or serial (ARINC429)
>96% efficiency, < 5.5kg weight (with fan) - Complies with MIL-STD-704E (28VDC and 115VAC inputs) and RTCA/DO-160G (270VDC output) - Supports RTCA/DO-178C dal B certification - Input power factor: > 0. 98
Soft Start ability
Output voltage regulation over 100% load variation
Total THD in 3-7% range for all operating conditions
Sector classification:
Aerospace & defense, automotive, industry.
Category of machinery:
Fixed wing, rotary wing, UAVs, UPS and PG
Commercial, motorsport, Material handling
Power grid management, marine
Typology of device:
Power conversion (1-30 kVA)